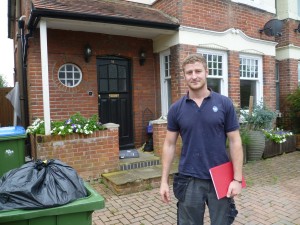 We are a small family run plumbing and heating company, based in Bognor Regis. We have been trading since 2002, but have been in the plumbing and heating trade for over 15 years. tackling all aspects of plumbing and heating works; from drippy taps to full heating and hot water installs. We are fully trained and insured and able to take on all kinds of plumbing, heating and gas installations, services and repairs.
We like to move with the times and will shortly be fully trained to install, commission and service air source heat pumps and solar heating and hot water systems.
Read more about our qualifications here.
We have a team of engineers who are fully qualified and insured in plumbing heating and gas industry. Our team work under strict instruction and guidance to make sure they carry out the job in hand to the highest standard  and to leave the customer happy and keen to recommend us to a friend or family member.
Plumbing can be straight forward, or very challenging. Either way we find it extremely rewarding.  It's not just fitting an appliance or a leaky tap, it's about problem solving, knowing your products and understanding and sticking to regulations.  Seeing a difficult issue as a challenge to overcome, not a problem to avoid! Customer satisfaction is our main goal, we want to be referred by you, to your colleagues, friends and family.
Job satisfaction being a plumber is second to none.  Customers are usually treating themselves to something that will function properly or just look fantastic and it's a joy to see their faces when the finished results matches their expectations.  The satisfaction is the same  whether it's a dripping tap that's been fixed or underfloor heating that's been installed.
We can work with other companies to make your life easier. Do you want a full kitchen or bathroom refit? We work together with painter/decorators, tilers and carpenters and can arrange the separate quotes to complete any task no matter how big.
We will always do our best to answer your calls, although sometimes it is impossible due to the nature of the job.  If we can't get to the phone straight away, we will do our best to return your call within the hour.