Tiered of poor water pressure? not getting a good shower?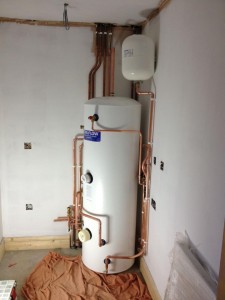 When heating water directly from a mains supply, one of the highest performing systems is an unvented mains pressure system, these systems require the use of unvented hot water cylinders.
Unvented hot water cylinders are a means of storing and then distributing hot water in the home; they are very efficient and offer many advantages. Unvented hot water cylinders are so-called because they are not open to the air in any way which means that they heat the water stored in them quicker than vented cylinders which are open to the atmosphere. Because this kind of system is supplied directly from the mains and not from a cold water storage tank, the pressure contained in the system is much greater than in vented systems as no pressure can escape – this gives you much greater water pressure from your taps and shower heads.
The main advantages with using unvented hot water cylinders are:
[unordered_list style="bullet"]
There is no requirement for a cold water storage tank so you have more loft space.
Unvented cylinders supply high water pressure for showers so booster pumps are not required.
They give you balanced pressure between hot and cold taps and also stable pressure for showers meaning that temperature can be controlled better.
The installation of an unvented system is also quicker than the fitting of a vented system.
[/unordered_list]