Exemplary service.
Our engineer Tim, was punctual, personable and extremely efficient. He overcame a number of awkward problems and provided a highly competent service. A very satisfactory experience.
Highly Recommended - Bathroom & Cloakroom Refurbishment
We employed Delaney Plumbing to completely refurbish our cloakroom and bathroom. The work was carried out to an excellent standard with great attention to detail.
A big thank you to the installation team, who were all very helpful and friendly and finished the project on time.
A special thanks to Matt and Cian. They were fantastic - highly skilled, hard working and trustworthy. A great team.
I fully recommend Delaney Plumbing and their staff.
Brian Harrisskitt
Amazing!!
Thank you so much! I requested a boiler service, a lovely man arrived on time, and was so helpful. There was a small issue following the service which after contacting Lesley, was immediately rectified. Anyone i communicated with at the company were so helpful, friendly and extremely professional.... im moving house and will have no hesitation in recommending on to anyone including my buyer!! Thank you to you all!!
Replacement Boiler
Excellent service from start to finish. Dan came out and quoted on a new boiler et al plus gave me an alternative quote for a different approach other than replacing boiler if to expensive. Happy with the quote for boiler replacement so confirmed and booked in for 28th June. Morgan & Jason turned up promptly on the appointed day. They were friendly, professional and communicated exactly how job would be undertaken. Within a day and half, everything was completed to my satisfaction. Have already recommended to a friend who is sourcing a boiler replacement which confirms my testimonial. Thank you Delaneys.
Highly recommended
Thank you Delaney plumbing! Ross arrived promptly, figured out the issue and fixed it. He explained everything clearly and answered all my questions. Clear pricing on the website gives peace of mind. I've already recommended your services to a family member and I won't hesitate to use your services again. Thank you again.
After an accident nailing down floor boards, I needed a plumber fast. Delaney's were polite efficient and arrived within the hour, and repaired my punctured water pipe. I recommend the service without reservations
Perfect
Complete New Bathroom, Tiled Floor, Walls Floor To Ceiling tiled, Walk In Shower.
Perfect From Start To Finish, Highly Recommend, Kept Informed And Shown Each Stage, Very Happy With All.
I have used this company for checking a gas heating appliance and the result was successful and at minimum cost. More recently I had to phone for an emergency plumber on a Thursday afternoon, for problem with a blocked drain. Appointment given for following Monday 10am. Two guys arrived on time wearing masks. The 'govnor' listened when I explained the symptoms, diagnosed where the blockage was and both got on with a messy, difficult job efficiently and in a courteous way. For the company these were small jobs, and I would certainly use them if/when I need to replace a whole system.
Professional service
We are very impressed with the quality of workmanship by Matt from Delaney Plumbing Ltd. All the staff we have been in contact with are polite and courteous. Very good job done in exactly the time quoted.
Professional and competent service
Dan and his crew were highly professional and polite. We were pleased to hire Delaney as they were also able to provide excellent and thoughtful advice that were very practical and showed their years of experience. Thank you Dan!
Delaney's team did a wonderful job and I am really happy with the service. The team is highly competent and experienced, and tried their best to follow what I had requested. They installed new bathroom and and were polite and friendly Thank you so much!
Bathroom refurbishment
We would like to thank Delaney Plumbing for our recent bathroom refurbishment. We are so pleased with the completed work . Dan was happy to work with us in planning the bathroom layout and came up with great suggestions. We would especially like to thank Jason and Bailey for all their hard work. We know it was a difficult job with lots of querky problems . Jason was brilliant , he listened to how we wanted things to look and no problem was too difficult for him to solve. The guy's left the house tidy at the end of each day. They were happy to answer any queries we had and explained anything we didn't understand. We would happily recommend Delaney Plumbing for bathroom refurbishment.
Care plan
I've been on one of Delaney's boiler care plans now for 6 months and I can safely say the service I get is excellent. I moved from Britch Gas to Delaneycare pack 4 saving myself £360 a year and the service I've received so far has been great.
Ross The Plumber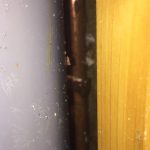 We rang and booked with Delaneys Plumbing 8am Monday Morning got given a 4pm appointment that day.
I wrongly believed this to be a £55 callout as I was unaware we were offered Tuesday as a callout and were fitted in on Monday under Emergency Callout costing £75.
Ross arrived at Approx 4.45/4.50 and worked well to approx 5.50 so keeping it within the hour
He worked out the problem with our Leaking copper pipe and fixed it, We are both very impressed with his work. Thank you
An excellent service
I am really happy with Delaney Plumbing. They have been responsible for all the plumbing work in my newly refurbished home and everyone who has worked here has been both highly skilled and very kind and patient. My experience has been that they pay close attention to detail and listen to the customer.
I cannot speak too highly of this company and wholeheartedly recommend them.
Excellent job done
I am delighted to recommend Delaney Plumbing. Their plumbers installed new bathroom and serviced my boiler. They were polite and friendly, gave clear explanations, and totally tidied up at the end of each day. The office staff were also very helpful. Thank you Delaney!
Excellent company
We have had several jobs undertaken by Delaney Plumbing, both major and minor, and all have been completed to our complete satisfaction. I highly recommend them.
We recently had a new gas boiler installed and have to say what an excellent job was done by the engineers. They were very professional and polite. We have used them on several occasions and would highly recommend them for any plumbing/heating work.
Norman and Sharon Knight
Came out on time did a first class job no mess and fair cost 10 out of 10
Fast Response!
I had to message Daniel whilst away on my holiday as I had been told that my Water Tank was leaking. Keeping in mind this was at 8pm in the evening I wasnt exepecting a response as quick as I did.
Not only did I get a prompt response but it was attended to within the hour.
I cannot recommend Daniel enough. There are lots of companies out there but I always find Delaney Plumbing trustworthy.
Thanks again
Fab Service
Fab service! A simple, but much needed job was carried out swiftly with a cheery smile and clean and tidy work. A great job well done, would certainly use again and recommend to others
5* Team and 5* Job!
A great service from start to finish.
I called Delaney Plumbing out to investigate issues with my radiators and boiler, the whole system was slow to heat up and the boiler seemed to be running all day with little effect. They performed a heating system power flush after testing the water. They arrived on time and quickly got to work jetting out all the blockages in the radiators and pipework, they where tidy, quiet and polite and I just can't believe how good the results are. They showed my the black build ups they where removing and by the end of the day my heating was roasting in a matter of minutes. Lovely team of professionals which I wouldn't hesitate to recommend to anyone.
Excellent service and workmanship from Delaney Plumbing
I had an old air vent central heating removed and replaced by a new central heating by radiators. So pleased with the results and finish. The team was very attentive to my needs and very professional. They also added a new basin and unit to my cloakroom, which was also nicely executed. I would highly recommend this Company and would use them again.
Estate Agency
Last week around 4 pm my colleague went to a vacant property to do an inventory and heard strange noises coming from behind the fireplace, which had a gas fire fitted, and we could not remove it. We called the RSPCA and the RSPB.... because we believed the noise was a trapped bird, but no one was able to attend, so we called Delaney Plumbing and asked for their help.
They managed to squeeze an appointment in and attend very quickly, removing and making safe the gas fire and freeing the trapped two birds, and then kindly sent us a photo of the them!
This shows what kind of people they are as a company, and therefore we would highly recommend their services.
Prompt, pleasant and effective
Excellent service responding to an emergency call-out. Jason and his colleague found the problem and worked out a fix, including shopping for parts, for a same day resolution of water dripping through a light socket.
Certainly recommend this company.
Graham Cawsey
Wonderful Service!
I have to say, great customer services from all the team.
Daniel was extremely helpful and explained what the issue was and how he fixed our leaking issue.
We really appreciated the help and professionalism.
I called delaney plumbing yesterday to look at my faulty boiler,. they visited the following day and what a wonderful company. The gas service engineer and his apprentice were extremley polite and knowledgable. They rectified the problem and serviced my boiler at the same time. Reasonably priced i would definately recommend and would use again. Many thanks.
a very personal service
I had one of those problems that was hard to solve but they didn't let me down, or charge when striving to sort the problem. A very helpful. efficient and respectful family run business. Excellent customer service! Thank you. Sandra shere
Within 24 hours Daniel visited and soon sorted the problem with our underfloor heating.
Great customer services from all the team.
Daniel was extremely knowledgeable and explained what the issue was and how he fixed it.
Would highly recommend and will be our go to company for any further help we need.
On two occasions recently I have needed to use the services of Delaneys and I can highly recommend them as they provided a very professional service. The plumbers were polite, friendly and very efficient. The ladies in the office were also very professional and helpful.
Norman Knight
Highly recommended
Thanks so much for the wonderful and professional service. Your team is highly competent and courteous to all our staff. It was a great joy and we will highly recommend your services to our industry partners.
Saved from a flood
Upon arriving at work, we discovered a leaking loo within a phone call and a wait of no more than an hour we were fixed and no longer wading. We will definitely be using you again and can safely recommend you to all for a prompt, friendly service. Thanks to all involved.
Having had to retrieve a bad experience from previous work carried out I contacted Delaney's for necessary Gas Safe work and was pleasantly suprised with the care and interest taken by Sam who was keen to help in our predicament. we were the visited by Nathan and his Apprentice (sorry his name has escaped me) to survey the work we needed, which included a hot water cylinder replacemant. Today we had Daniel come to do the job. We hardly knew he was here and all jobs were done to a very high standard. Our experience of Delaney's is one of a caring Company who actually care not only of the job at hand but treating you as Human Beings. From start to finish we have experienced the utmost professionalism and courtesy. Use this Company!
Responsive, efficient,tidy and utterly reliable.
Replacement boiler installed on time and on Budget. Work undertaken with quiet efficiency and minimum disruption to the house. Cleaned up every night. Went the extra mile to ensuring gas supply was safe and checked and cleaned gas jets on the cooker. Highly recommended.
I cannot fault Daniel Delaney for customer service and professionalism. I had problems with a shower installation and Daniel went the extra mile to sort it out to my satisfaction. He was patient and courteous throughout, as are all his staff. I highly recommend this company. I know have a great new boiler and walk in shower, am delighted with both.
Great service.
Sudden leak was sorted within 80 minutes from calling. Very reasonable charges, highly recommend. Office staff polite and very helpful. Now our preferred plumber.
Daniel Delaney showed detailed knowledge, thoroughness and patience in installing our new boiler for underfloor heating and resolving technical issues associated with the previous set-up system.
Professional, prompt, trustworthy, kind and efficient .
I cannot recommend Daniel and his company too
highly.
He responded to the demise of my heating system
promptly and with kindness and consideration.
He made me aware of the range of work that needed
to be undertaken and gave me various options to consider in his quote.
The work was completed on time and to a very high
standard.
I am delighted with the result.
Polite, professional and punctual
Recently had the valves changed on all my radiators and I'm very pleased. Everything was explained to me on how it all works. I'm delighted with the work done. Also Sam who answers the phone is a treasure and really goes out of her way to help.
Peggy Winborn
Boiler Service
Friendly professional service.
Would recommend and use again
Amazing service
Really pleased by the way my problem was handled by Daniel Delaney plumbing.
I rang up and spoke to the nicest lady (I think her name was Sam) to book a Gas Test for my rented property. We agreed that she would ring my tenants herself to organise a time etc. Sam took down the tenants details and said she would arrange everything and not to worry. I asked her to e-mail me when she had made arrangements, which she did the very next day. After speaking to my tenants, who told me that Daniel Delaney Plumbers turned up on time and was very helpful and polite.
I had only 3 days to sort out my Gas Certificate before it 'illegally' ran out. Daniel Delaney Plumbers moved their diary around to fit me in so this wouldn't happen. This is how a perfect business should be run. I phoned up to pay my invoice and got an answer straight away, its rear that people answer the phone these days let alone being so helpful and polite at the same time.
It's extremely rear to get a good plumber so I'll be holding onto this one.
I would highly recommend this family run company to anyone and would certainly use this company again.
I didn't want to put such a long testimonial like this but the service was so great I felt I had to.
We have used Daniel Delaney for big jobs (new boiler, new shower) and smaller jobs. Always very happy with the friendly and professional service from start to finish. Even planned the noisy aspects of one job around baby's nap times. Would absolutely recommend to others.
I had a cooker fitted today by tony outstanding service polite total gent thank u will be useing u again x
Satisfied customer
We have recently had some work done by Mark and Tony from Delaney Plumbing, these two lads did a great job they were courteous and polite, on time and left our property tidy, we would be very happy to use them again.
Scott did an excellent job replacing our taps today. Very friendly, quick and efficient.
Many thanks
Luke installed our new boiler and Chris took care of the new radiators all to a very high standard and very clean work. I have used Delaney Plumbing before and will no doubt call on them again 🙂
Wonderful
What an amazing job Scott did on our bathroom!!
With the help of Homebase Daniel design our new bathroom and from start to finish Scott ripped it out and replaced our new bathroom and made such a lovely job of it too, highly recommend this company.
Call out
Unfortunately I had to call on Daniel Delaney services on a bank holiday and to my surprise an engineer was with me within the hour, he fixed the burst pipe under the stairs in no time. I was a bit put off by the price quoted but was happy to have the problem sorted so quickly.
Great reliable service
As a regular customer of Daniel Delaney plumbing I have always been impressed by the professional service. This week I spoke to Sam in the office who was able to get someone out to me the same day to fix my toilet. Won't hesitate to use them again. many thanks for great service.
Brilliant !
We would just like to thank Daniel for the plumbing work he has done for us. We are relatively new to the area and are delighted to have found him! He is excellent and very professional. He fitted a new towel radiator plus he did a few other smaller jobs and we are delighted with the results. He is polite, punctual and very tidy. We will always deal with him in the future! Many thanks. Karen and Adrian Gamble.
I was very impressed with my service my boiler seems fine now such a good job done. Thankyou so much
Fantastic Service
Just had a complete boiler replacement. Couldn't fault the service, very friendly, professional and thorough at a reasonable price. Would highly recommend. My house is now lovely warm ready for winter ☺☺☺
Excellent
We would recommend Daniel and his crew , prompt excellent and very professional.
Professional, reliable and quality workmanship
Daniel and his team installed a disabled toilet for me. It was planned like a military campaign with the other tradesmen involved. Everyone turned up on time and cleaned up after themselves. Everything went smoothly and I am absolutely delighted. And the cost was fair too. Thank you so much my life is so much easier now.
Peggy
Professional, reliable and helpful
Daniel has installed our complete central heating system, as well as multiple other jobs. He has always been very reliable, professional and helpful throughout all work he undertakes.
One very grateful customer!
Since Chris came out to fix my shower it is working better than it ever has. In fact, it is working so well now that I am no longer going to install a more powerful shower!
Many thanks
John
Thanks!
Thank you for your help at such short notice. Chris did a great job and it is much appreciated.
Thank You!
Dear Daniel
I would like to thank you very much for all you did for me and so promptly too! It was most satisfactory.
With kind regards
Mrs Allen
Daniel has just installed a new boiler for us.The work was of a very high standard and found all his staff very friendly and polite. We were both working so had to leave a key for them to gain access the house was left spotless would thoroughly recommend them for any job .
Go's the extra mile
I'd recommend Daniel. He knows what he's doing. He's a clean and tidy worker and he does the job properly.
Reliable and Highly Skilled
Daniel is a very efficient plumber , we found him to be reliable and highly skilled . He fitted a new heating system with boiler for us , we were very happy with the job and would gladly recommend him . Oh nearly forgot , the cost was also good .
Great Service
We can't recommend Dan highly enough, he has been 'Our Plumber' now for over 6 years and has always been great. His prices are fair and he's very reliable whether its a little job like a leaky toilet or fitting a new boiler (something he did recently for us). Brilliant!
Also check our excellent TrustPilot reviews